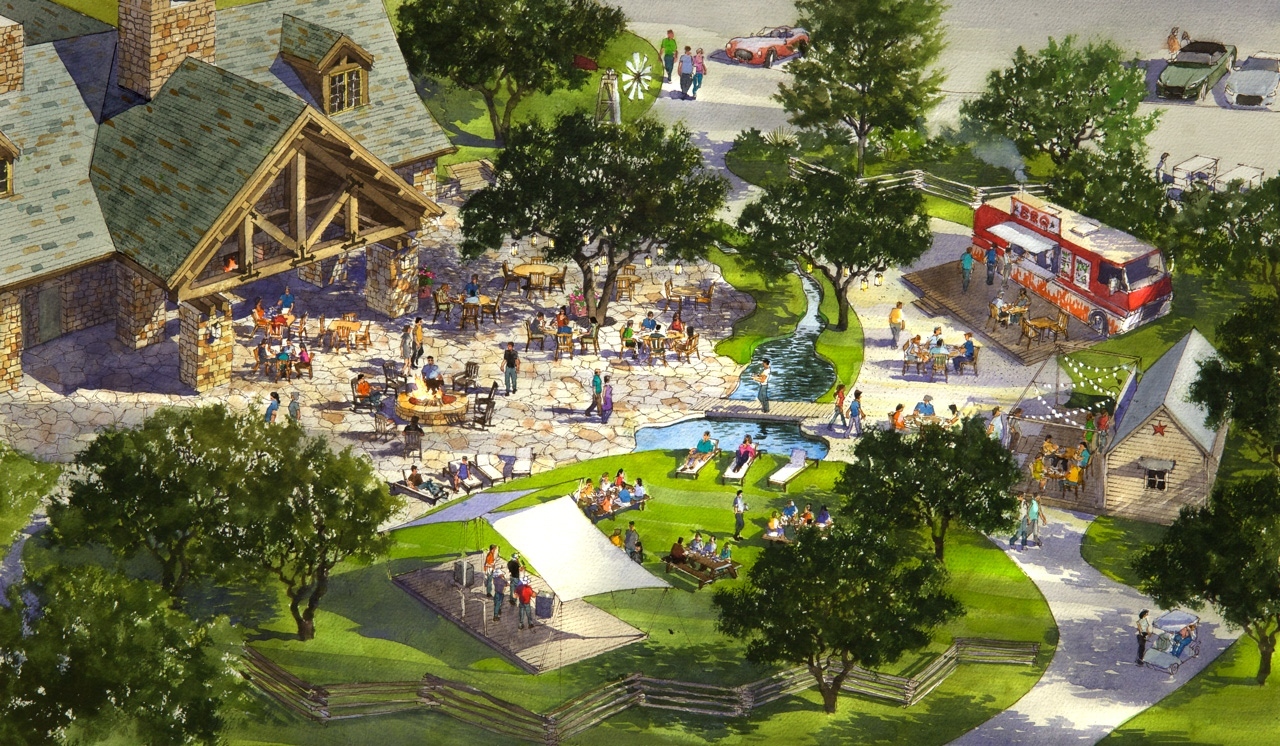 How To Attract Younger Country Club Members With Design & Amenities
With over twenty years of design expertise in the club industry, we are often asked not only how to retain current members, but also what will attract new younger country club members for years to come. Our work for The Vaquero Club highlights how design & new amenities can help attract new members to your country club.
Marsh & Associates was engaged to help The Vaquero Club, located in Westlake, Texas, to update their clubhouse amenities so they would appeal to a broader membership base. The Master Plan would include a new fitness wing added to the clubhouse, enhanced locker areas, a new casual dining venue and a spirited outdoor dining retreat.
The first phase of this project, and the focus of this case study, was to create an energetic outdoor casual dining venue that would become known as "The Ranch House" – a club within a club. Membership challenged us to create a space that evokes a vacation south of the border; an outdoor venue that would allow members to "just hang out" and relax in a casual but lively social atmosphere.
"Members love this space where they aren't restricted by typical club rules," says General Manager Tony Dawson. "This is a space you can decompress in shorts and flip flops or, since we are in Texas, boots are welcome too."
The Marsh & Associates team worked to repurpose an existing structure located between the golf practice facilities and the Clubhouse. This would become the perfect location to create a dynamic link for members to congregate. This placement along the newly enhanced golf amenities creates a playful interaction with social amenities and helps to bring golf back to the forefront of the club activities. Nearby chipping greens, putting surfaces, and bunkers allow families to engage one another and pass along the passion for golf to the next generation.
The design team was able to create cohesive spaces that welcome members and their guests to enjoy a social experience unique in the club industry. A covered, four-sided bar is the hub, anchoring the outdoor space with cross-talk camaraderie, TV's, and refreshments. The adjacent landscape is replete with alcoves of fireside retreats, lounge groupings nestled amongst the trees, and cooling water features. Majestic oaks are ornamented with lanterns, providing a soft ambient glow that can extend activities well into the evening. Festoon lighting is loosely draped across the various outdoor spaces, forming a ceiling of soft light to further define the outdoor spaces.
A ranch-style stage delivers live music and twilight plays and performances. Timber and limestone pavilions wrapped in canvas walls afford shelter for congregating or to escape the weather. Each tent structure is outfitted with big-screen TV's, fireplaces, lounge seating, and dining tables, offering an environment to support multiple uses. This is a space that golfers, families, and social members come together as a community to enjoy the outdoors.
Vaquero's Ranch House opened to the membership and immediately met with high approval, creating a buzz throughout nearby communities. Dawson praises the increase in member use (and associated F& B revenue), and notes that members of all ages are enjoying the new outdoor retreat. This energized open-air social venue, coupled with adjacent activities, delivers on three of the most prevalent club trends; Wellness, Family, and casual dining; exceeding the Club's expectations.
Marsh & Associates, Inc. is a renowned Clubhouse Architecture and Interior Design specialist with over 20 years of expertise and has projects located throughout the world. Bryan Webb is a Principal and Director of Design with Marsh & Associates, Inc. Country club managers who want to attract younger country club members are welcome to contact Marsh & Associates.