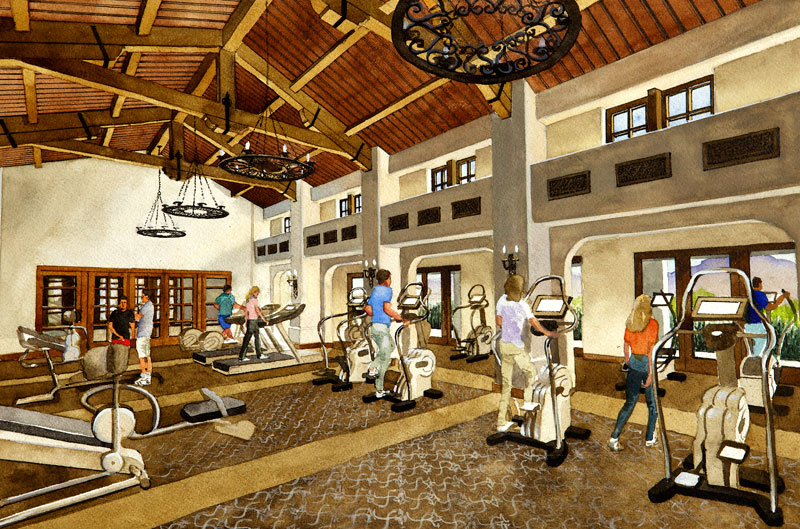 Fitness is the new Tradition
Is fitness the new backbone of today's clubs? Today's clubs are experiencing members tightening their finances, frequenting clubs less and even terminating their memberships.
In 2014 the National Golf Foundation reported a reduction in the golf industry for the eighth straight year. Five percent of private clubs were forced to open their doors to the public and over 500 clubs landed in the "at risk" category. An average decline in membership of 29 percent is the main correlation for becoming an at risk property. How do clubs stabilize their memberships? Family, fitness and getting back to the basics (service, quality, amenities and a sense of belonging) have been touted by industry leaders as the keys to success. New and younger members are constantly on the go. They want everything in one place as they juggle demanding family and business schedules. So how do you stay true to the foundation of your club while reaching out to a new market of potential members?
Tradition Golf Club located in La Quinta, California may not have found all the answers but what they did find has answered many of their own questions. They understood that in order to attract new members, retain existing members, and stay competitive, they would need to add new amenities, update facilities and provide greater convenience. It came as no surprise that fitness was part of the answer but they wanted to take it beyond just adding a work-out facility. Fitness has been a trend on the upswing for several years and clubs that offer wellness amenities allow members to eliminate avoidable outside gym memberships. The new wellness center at Tradition boasts high ceilings with timber trusses and ornamental iron chandeliers setting the club apart from typical fitness studios. French doors open to patios adorned with shade pergolas, fountains and colorful bougainvillea. Natural daylight, ventilation and a strong connection to the outdoors adds to this healthy environment. The inclusion of Marsh and Associates to create a cohesive master plan for controlled growth helped the club make improvements at a pace they could afford and that the market would support. "Preliminary planning was key as construction was completed under budget and faster than the initial schedule" reports general manager, Heidi Risk. The convenience of the new facility has allowed members the luxury of more time with their family both at home and the club.
Appealing to the health-conscious mindset of new members has allowed Tradition to further employ this amenity through a series of healthy culinary options, massage therapy treatments, wellness seminars and movement classes bringing a mind-body approach to the club. With the opening of the fitness center, Tradition Golf Club added 55 new memberships, representing 24 percent of their membership. "The Fitness Center has also become a destination stop at the Club; it is the meeting place for guest lecturers on a variety of health topics as well as the kickoff point for biking groups, and planned area hikes", says Risk. The fitness center further supports the quality and service of the club while adding opportunities to connect with other members.
Fitness may not become so centric to be considered the backbone of the club industry but there is strong evidence that it can stabilize clubs and reach out to the younger generation.  This feature should not be considered a "tacked on amenity" that fades away with the trends, but embraced as part of the culture of the club moving forward. The integration of wellness as a whole will help solidify the future of Tradition Golf Club where fitness has truly become part of the new Tradition.
By Bryan D. Webb, Principal
Marsh and Associates, Inc.
This article appeared in The Boardroom Magazine, July/August 2014