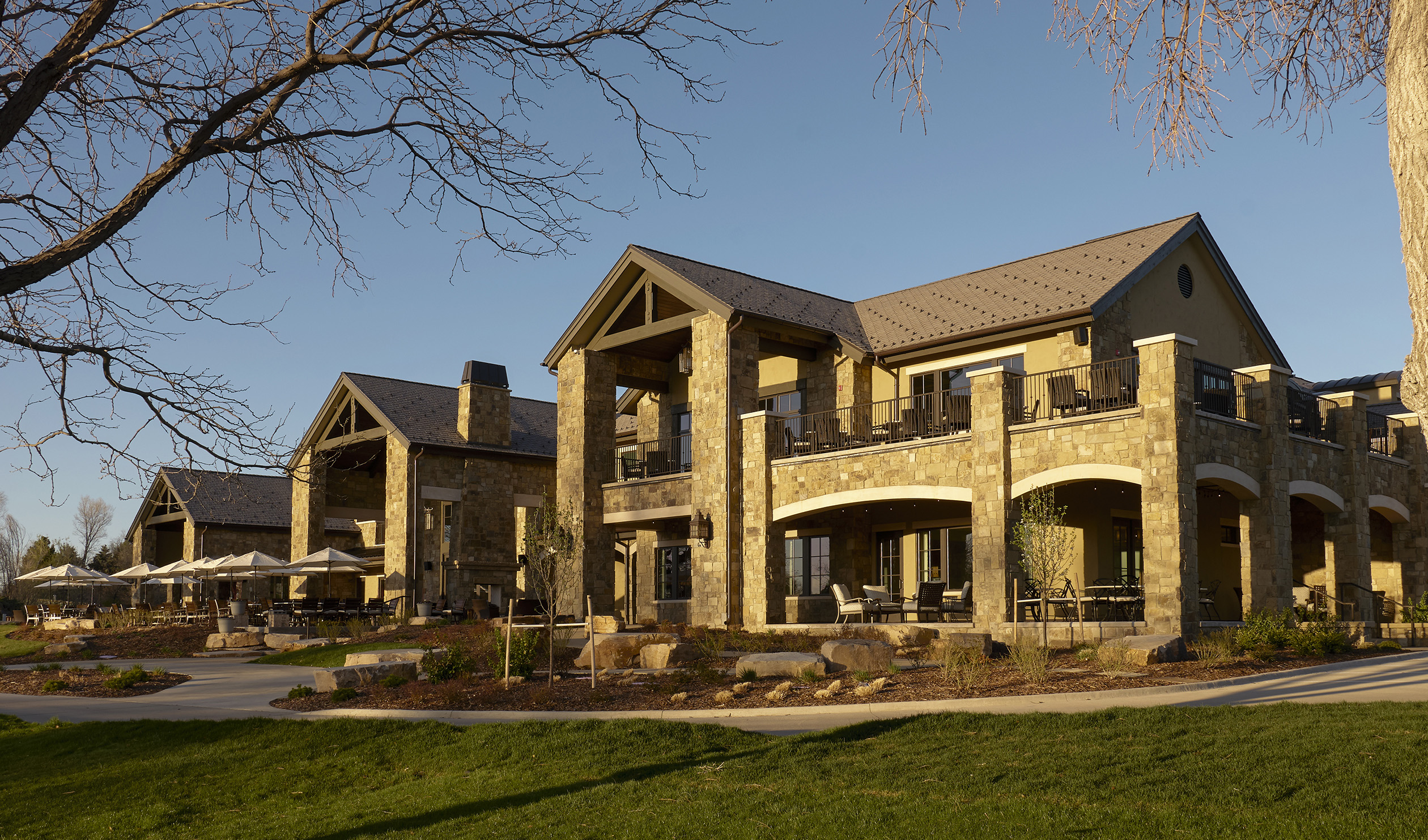 Golf & Country Club Architecture Tips: Columbine Country Club Case Study
Marsh & Associates' work to help Columbine Country Club develop a new clubhouse highlights golf & country club architecture tips that can be applied to country clubs worldwide.
"If you build it he (they) will come" inspired Ray Kinsella in the movie "Field of Dreams," to take a chance to build something that many thought was a fool's errand. Columbine Country Club (CCC) in Colorado may not have "heard voices," but they too were inspired to build something they thought would encourage people to come; and they were right.
As a traditional, golf-centric country club, Columbine Country Club faced the same challenges to remain relevant as many of their fellow clubs. Marsh & Associates, Inc. (MAI) was brought in to help generate member support and design the new Clubhouse. Focus groups, Town Hall meetings, and months of committee collaboration were essential in distilling the members' extensive wish list into a cohesive vision.
Columbine's new Clubhouse concepts were thoughtfully crafted by MAI, garnering overwhelming support for a new facility. The club wanted to not only target industry trends but to become a leader. The goal was to create an amenity-rich, social activity hub, anchored by a robust outdoor connection that is celebrated year-round in Colorado.
"We did our homework, identified our place in the market, and created a clear vision for the membership. And the results have exceeded all of our expectations," says General Manager Michael Bratcher.
Family has long been an industry trend, but through listening to membership, MAI understood their meaning went beyond the traditional definition. Family can be a close group of friends, neighbors, or you and your spouse; in the end, it is all about social gathering. MAI endeavored to create spaces that were welcoming, interactive environments for both families and adults that would fulfill Columbine's vision for a club that embraces the outdoors, provides a multitude of offerings, and embodies casual elegance.
Passing through the oversized entry doors, members are welcomed by soaring spaces and commanding views, leading to the expansive terraces. This immediate connection to the outdoors was a critical part of the design in order to deliver the relaxed lifestyle the membership desired.
Fire pits, shade structures, a generous activity lawn, and retractable glass walls invite the living spaces to spill outside, increasing the club's amenities. Interconnected dining spaces offer both adult and family dining conjoined by a communal lounge. Sporting a twenty-foot-wide folding window, the bar crafts a two-sided, indoor-outdoor community hub. The club also offers upper-level dining spaces with terraces that embrace the vistas of the renowned CCC golf course and Rocky Mountains. A well-appointed wine cellar with adjacent President's room, and a private party chef's table in the kitchen, adds to the variety of dining experiences.
The year-round activities at Columbine Country Club anchor the community, and the swim center is just a part of the wellness program the club will offer. Columbine will boast championship and Par-3 golf courses, swimming pools, tennis and bocce courts, plus a new 5,000-square-foot fitness center. Movement rooms, a juice bar, and massage and physical therapy spaces will accompany the fitness amenity. A highly anticipated area is "The Bunker," a man cave for the whole family, with golf simulators that double as movie screens and gaming displays, offering a place to just hang out. Kids can gather in the upcoming Kids Zone after dinner, during dad's morning workout, after school for homework or just for games and entertainment. Bratcher notes that members are excited by the new offerings, as they demonstrate the clubs commitment to welcoming the entire family.
"The new clubhouse is so thoughtful and representative of our values that the membership has since exploded. We have already welcomed well over 100 new golf members while more than doubling our initiation fees – and the clubhouse isn't even done yet!" says Bratcher.  Columbine Country Club management followed the voice of membership to rebuild, and have already hit a home run.
Looking to develop a new clubhouse that embodies the latest golf & country club architecture tips & best practices? Contact Marsh & Associates to explore your options.