Bryan Webb, Principal / Director of Design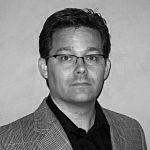 Bryan Webb joined Marsh & Associates, Inc. In 1998 and is a Principal and Director of Design for this internationally renowned architecture and interior design firm specializing in the design or resorts, golf and country clubs, and related hospitality components and residential communities.  Webb is a licensed Architect with more than fifteen years of experience designing Golf Resort and Hospitality Architecture.  Bryan's design efforts have garnered numerous awards, including nine distinctions for Clubhouse of the Year, and three for Golf Clubhouse and Pro Shop Interior Design Firm of the Year. With his guidance MAI has been ranked among the top Hospitality Architecture firms in the United States, and recently was named Clubhouse Architect of the Year.
Webb is proficient at defining spaces that embody casual elegance; spaces that are sophisticated, warm and relaxing. He is particularly adept at developing context and character to suit a project's site and purpose. Bryan understands the importance of creating a wealth of interconnected experiences; from the arrival sequence and exterior courtyards to the inviting gathering spaces within a building, he strives to create environments that exceed the august visions of our clientele.
Webb graduated with a Bachelor of Architecture degree, with a minor in art, from the University of Idaho. He holds fifteen Architectural licenses across the United States, Certification from the National Council of Architectural Registration Boards (NCARB), and is a LEED Accredited Professional, helping to deliver sustainable design to the golf and resort community. Webb has been invited to share his experience and insight through interviews, articles, and speaking engagements in the U.S. and international markets, and works diligently to remain at the forefront of industry trends.
Contact:   bwebb@mai-architects.com
Personnel
The MAI team is diverse, talented, experienced, and passionate about the work we do. Our staff of Architects and Designers continue to lead the industry in delivering highly functional, award-winning buildings to suit every budget and schedule. Call and let us raise expectations for your next project.
Robert Yager, Director of Architecture